Category: Movies
Baahubali 2: The Conclusion
Published 09.02.2018 · Comments:
Comments Off

on Baahubali 2: The Conclusion
· Read: 3 min · Views:
Baahubali 2: The Conclusion / बाहुबली 2: द कॉन्क्लूज़न
8,4/10 IMDb   100 % Rotten Tomatoes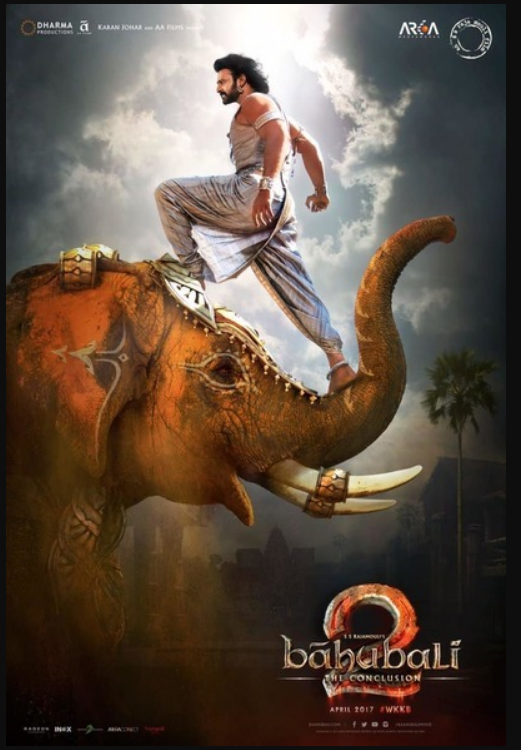 Catappa (Satyaraj) continues to tell the story of how he killed Amarendra was Bahubali (Prabhas). Having dealt with Kalakasan, Amarendra bahubali was declared the next king, and Bhalla Deva (Rana Daggubati) declared commander-in-chief. Before the coronation, the mother Queen Sivagami (Ramya Krishna) begins to look for a bride for Amarendra. She instructs Amarendra and Kuttappa to travel through the Kingdom in order to understand the current state of the state and its people. Amarendra falls in love with Devasena (Anushka Shetty), Princess of the Kingdom of Kuntal and the king's sister. Bhalla Virgo learns about this and tries to drive a wedge between Amarendra and his mother to marry Devasena himself. Sivagami, not knowing that Amarendra in love with Devasena, promises Bhallu the virgin's hand Devasena. She sends a convoy to the Kingdom of Kuntal with a marriage proposal, but Devasena sharply rejects it. On hearing this, Sivakami in a rage ordered his emissary to take Devasena captured. The Kingdom of Kuntal is attacked by an army of armed bandits. Amarendra with the help of cousin Devasena – Kumara Varma (Subbaraju) reflects the attack and saves Kuntala. Amarendra reveals her name, tries to mitigate fear of her mother's anger, and persuades Devasena to go with him as his bride.
Upon reaching his home Kingdom, it appears a misunderstanding and Sivagami puts Amarendra faced with a choice: either the throne or Devasena, and he chooses to Devasena. Now Bhalla Deva is the crowned king and Amarendra is the commander – in-chief, but it is clear that Amarendra is still the people's king.
During the birth of Devasena, Bhalla virgin Amarendra exempt from the duties of commander-in-chief to Amarendra could be with his wife. Devasena immediately speaks out against the king's manipulation and the silent inaction of the Sivag. Due to further clashes Devasena and Amarendra expelled from the Palace. They happily live among people. Bhalla Deva is plotting to convince Sivagami that Amarendra is trying to kill him. Sivagami, convinced that life Bhalla Virgo is under threat, and open actions will lead to strife and civil war, orders to kill Catappa Amarendra. Catappa bound by oath to serve the Queen, luring Amarendra, pretending that he's in trouble, and then kills him with a Backstab. When Kuttappa finds out about the betrayal Bhalla Virgo, he goes with it Sivagami. Devasena comes with a child in her arms to find out about her husband's death. Sivagami tells the crowd gathered in panic around the Palace that Amarendra is dead and his son Mahendra is the new King. Now Bhalla Virgo and his men are about to capture the Queen mother, but she manages to escape with Mahendra Bahubali's child, and Devasena is captured for the next 25 years.
After listening to the whole story Mahendra Bahubali / Shivudu (Prabhas) decides to avenge the death of his father. Raising up your army with the help of Kuttappa, he returns home with Avantika (Tamannah). Wise, like his father, he managed to enter the Palace and capture Bhalla virgin who is trying to convince Catappa that he should be loyal only to the king (him), to which he recalls that Sivagami 25 years ago, announced Mahendra was Bahubali king. By ending the brutal regime of Bhalla Deva, Bahubali becomes the new king and Avantika the Queen, proclaiming peace and harmony.
Baahubali 2 – The Conclusion | Official Trailer (Hindi) | S.S. Rajamouli | Prabhas | Rana Daggubati